Packaging design in 2D
2D CAD/CAM software VERPAK
VERPAK is a 2D CAD/CAM software for packaging design that focuses on productivity and flexibility in the development of packaging and displays.

With the practical functions, the design of a packaging in two-dimensional space can be accomplished in seconds.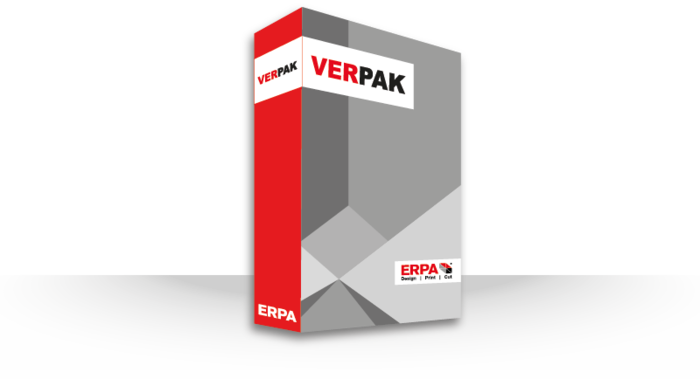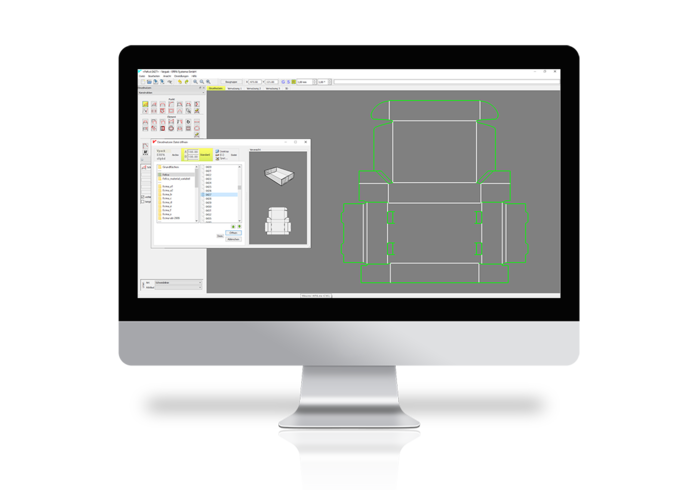 We work closely with our customers to continuously develop the CAD/CAM software and adapt it to the latest requirements in packaging design.

With VERPAK we offer a software for packaging development that corresponds to the latest state of development, can be used flexibly as well as quickly and still remains cost-effective.
VERPAK's integrated library has more than 1200 ECMA and FEFCO packaging standards. Enter the desired dimensions and instantly get many thousands of sample variants. A standard package can contain far more features than a parameterized design.

In addition to the intuitive design tools, folding processes can also be easily simulated with VERPAK - this allows you to check your designed packaging sample during construction. The 3D representation of the design as a wireframe model can also serve you for the same purpose.

With VERPAK light we offer you an entry into packaging development that is easy to understand, flexible, quick to use and cost-effective. VERPAK light gives you the opportunity to create packaging on your own, without any special prior knowledge, using an extensive standard library.
The focus of the CAD/CAM software is on effectiveness and productivity in packaging and display design. A later upgrade of the to a VERPAK full version or a 3D CAD/CAM license VPack® is also possible.
Fast and easy design of packaging and displays through practical design tools in 2D
Semi-automated design tools for customized packaging solutions
Library with more than 1200 ECMA and FEFCO standards with several thousand possible packaging samples
Design company-specific standards with PARMUS (Parametrisierte Mustererstellung)
Integrate all common graphic and CAD formats (e.g. CF2, EPS, DXF, PDF), also customized for specific companies
A surface structure with 3D representation can be automatically generated from external formats
3D representation in wireframe model, incl. simulation of folding processes
Analyzes material consumption, waste, line lengths, net & gross dimensions, corrugation and fiber run and other important information
Tools for the creation of cutting dies and counter dies
Modular constructions specific to packaging and displays
Connection to all common digital cutting systems (e.g. ZÜND, ARISTO, elcede, Kongsberg, Lasercomb, Data Technology), databases and ERP-systems
Easy to use (max. 3 days of training)
Cost-effective, company-specific adaptable, easy integration, quickly deployable