Optimize your logistics
Pallet Optimization palOPTI®

palOPTI® is the innovative solution optimization of storage space and packaging efficiency!
With palOPTI® you calculate packaging sizes precisely to make maximum use of every centimeter of storage space. The palletizing software analyzes and arranges single-sort round as well as square packages and covering boxes in square container types such as pallets, mesh boxes or trucks.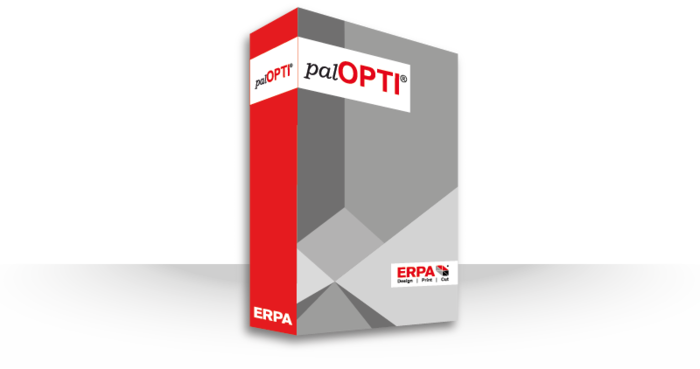 palOPTI Pallet optimization
Loading and cargo optimization
palOPTI® offers the best possible overview of different solution for your load optimization.
The one-step optimization allows you to get fast results with just a few inputs. Here you choose from a variety of layouts. You define your load carriers and packages yourself and save these
In the 2-step optimization (optimization of homogeneous single packs in outer cartons), you can clearly explore the calculated arrangement options in a user-friendly scroll window. The selected arrangement can be varied as desired.

You always have full control over your packaging processes and can thus achieve the greatest possible efficiency and cost savings.
palOPTI® calculates the package arrangement with individual settings, taking into account stand directions, stowage gaps, quantity and weight limits, and exports them in packing instructions in the layout of your choice. You can choose from a variety of graphics and freely design and format texts. Clear loading plans effectively reduce packing, picking and loading times.
By reducing packaging material and optimizing the use of transport, palOPTI® helps to reduce the ecological footprint and make a positive contribution to the environment.
Manual Arrangement
Cargo Securing
Extended Layout
International
for € 199,-
Modul: Manual arrangement
With the manual arrangement you can change the 1-step analysis of the packages as you like. You can move the packages in 2-step analysis.
Packages can be inserted, rotated, tilted and deleted individually, in a stack and as a layer.
The whole arrangement can be centered, moved, inserted and deleted.
Packing schemes can be created exactly according to specific requirements.
for € 199,-
Modul: Cargo Securing
Highest possible securing of your transport goods through various securing options
Add edge protection, strapping, pallets, interlayers or cover boards to your packing instructions to secure the load in the best possible way
Vary the width of the strapping, thickness of the deck board, thickness of the interlayer and more and include all fuses used in the weight calculation.
for € 199,-
Modul: Extended Layout
Allows complete customization of the output.
By simply including a self-created RTF (Rich Text Format) file, you have numerous design options for the packing instruction.
In addition, the packing instruction can be individually adapted to your company with approx. 150 different variables.
The table for container types, packages and outer cartons can be extended by 7 additional fields each.
for € 89,-
Modul: International
Use different output languages of palOPTI and use the program in the respective native language of your employees, also at your international offices.
The following languages are currently included: German, English, French, Dutch, Spanish, Italian, Slovak, Romanian, Polish and Czech.
The output language can be changed independently of the program language.
For our foreign customers, the "International" module is already included in the license free of charge.